Lake Louise Inn restaurant hours are subject to change.
You can always view up-to-date dining options below.
LEGENDS RESTAURANT – 403-522-5418 / ext. 418 from guestroom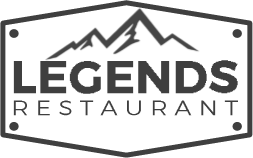 Satisfy your mountain-sized appetite with a delicious breakfast or chow down on a hearty Canadian lunch that's guaranteed to hit the spot! Enjoy the views on the patio in the summer or warm up by the fire during those chilly fall/winter days. In a hurry? No problem! Talented chefs can prepare a fresh boxed lunch ready for you to take on a day of adventure.
Breakfast: 7:00 AM to 11:30 AM
Lunch: 11:30 AM to 5:00 PM
Dinner: 5:00 PM to 10:00 PM
Our patio is now open from 11:30 AM to 10:00 PM daily!
Live music & entertainment every Saturday from 7:00 PM to 10:00 PM.
*Dining hours are subject to change.
Legends Breakfast, Lunch & Dinner Menus
TIMBERWOLF PASTA & PIZZA CAFÉ – 403-522-5419 / ext. 419 from guestroom

Famous for our pizza but loved for so much more! Local favourites include the signature Timberwolf pizza, seafood fettuccine, and chicken parmesan. Prefer to eat in your guest room? Timberwolf offers take-out as well!
Open daily between 5:00 PM to 10:00 PM
| Minors are always welcome.
*Dining hours are subject to change.
EXPLORERS LOUNGE – 403-522-5407 / ext. 407 from guestroom
There's plenty to explore here! Relax in a casual atmosphere, with a fireplace surrounded by seating, board games for children and adults alike and a jukebox. The recently redesigned menu features signature dishes, delicious burger specials, pub food and healthy options.
Starting July 15th, Explorers Lounge will be closed until further notice.
*Dining hours are subject to change.